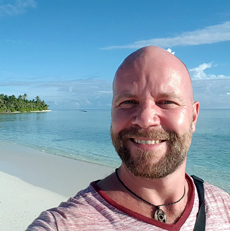 Hi. I am Ramon Stoppelenburg
I am a publisher. writer. traveler. entrepreneur.
I left a mark on the internet before it all got very big and social,
published a few books in The Netherlands and moved to Cambodia in 2011 and on to Georgia (the country) in 2021.
I might actually be the first ever digital nomad as I had my own social network already running in 2001.
Others even called me the Godfather of Couchsurfing.
In 2018, the Dutch Royal Library designated the Letmestyaforaday.com website as UNESCO Digital Heritage,
internationally recognized in the 2003 UNESCO Charter on the Preservation of the Digital Heritage.
And I kept traveling. A lot. That's what Southeast Asia does to a person.
My day job is being a writer for a few hours a day, finding out where to go next on my travels and running various little businesses, like I did with a movie theater in Phnom Penh (2011 to 2021) or Expedition Kilimanjaro in Tanzania.
Next to that I am the editor-in-chief of The Quiet Reader, a new international literary magazine.