I am a writer.
You might not have known that when we first met up, as probably there was no sign of me writing.
My travel writing has been published in the book Letmestayforday, which sold over 10,000 copies in The Netherlands and Belgium, and next to that I compiled an anthology of short literary fiction stories by Dutch authors.
The latter had to be about flying or being a passenger inflight and was called Fasten Your Seat Belt. The publisher found my original title All Up In The Air too 'explosive' for travelers to pick up the paperback at the airport bookstores.
At the moment my core activities involve cooking up dinner meal boxes with Foodoo, the $5 dinner box (three days a week) and managing a little comfy movie art house movie theater in Phnom Penh, Cambodia (Southeast Asia), where I have been residing happily since September 2010, while also running the tour company of Expedition Kilimanjaro in Tanzania (Africa).
I give rare presences of myself doing standup comedy on a stage, do creative ghost writing on several blogs on a very wide range of targets, being an highly active CrossFit athelete that one hour a day, a healthy food lover and traveler whenever possible.
And seriously, you thought I was only writing.
Let me just write some more below.
Among my day jobs, I've been the first person ever to travel the world for free using my own Letmestayforaday.com website, which got me become The Godfather of Couchsurfing, a radio show host on Dutch Radio 1 as well on Cambodia's Radio One, a newspaper columnist (travel writing), an internet marketeer launching online health insurance brands and once producing the first Dutch book trailers, a modest commercial model for fishing fairs, telephone companies and car repair chains (I guess I had the face for it?) and producer of the first ever documentary on CouchSurfing.
I work from home or from air conditioned coffee shops and lunch rooms. It's always hot and tropical outside, but that's why I live in Cambodia too.
I enjoy gatherings of people, at the gym or with my friends at weekly badminton games. Us Western people are all in Cambodia for a certain reason and that creates a special kind of positive energy that I have not experienced anywhere else in the world.
I have 5 cats. My work space is always a mess and they seem to enjoy that too.
Name one writer who doesn't have a cat, by the way.
Want to know more about my time in Cambodia?
Read this post: an update on my life in Phnom Penh so far (September 2012) or read the latest longer update (January 2016).
Vanity Fair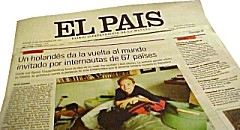 "Web personality of the year 2001: this year's web eccentric is not some unfortunate and unwitting nutter, but a personable 24-year-old Dutch media student"
– The Sunday Times, United Kingdom
"He has become a mascot for living the impossible dream, laughing in the face of caution and conformity, embodying the spirit of reckless adventure that most people year for… when the geyser's fixed and the kids are older and the mortgage is paid"
– The Dispatch, South Africa
"Ramon Stoppelenburg has become one of the first true internet celebrities"
– Evening Herald, Ireland
"Bloomin scroungers, all of em! Go get yourself a proper job and be miserable and parochial like the rest of us!"
– The Register.co.uk, UK
"These are classic travel stories from a modern time"
– globetrotter and travel writer Mike Pugh, Worldhum.com
"It's the flying Dutchman!"
– The Citizen, South Africa
"One guy from Chicago said he could stay as long as his wife didn't object. And if she did, hell, he'd pay for a hotel."
– Wired.com, USA
"Have website, will travel"
– Daily Mirror, UK
"The whole world knows our Ramon Stoppelenburg"
– Het Parool, Amsterdam
"Critics would call him a freeloader but fans call him a entrepreneur"
– The Courier Mail, Australia