Currently:
Serial entrepreneur residing in Phnom Penh, Cambodia. Active as a concept developer, internet marketing specialist, writer, tour operator, massage therapist, CrossFit L1 trainer/athlete and owner of three movie theaters in town.
Before:
Became famous for traveling the world for free, as the first person to use the internet to do so (2001-2003). Published a book about this adventure in 2004, which sold over 10,000 copies in The Netherlands and Belgium. Therefore become The Godfather of Couchsurfing.
Plus:
Can't live without working out at the local CrossFit gym, pretty much daily. Prefers to eat clean food (about 5 to 6 times per day), loves dining out and rooftop/balcony wine sessions. Loves to cook great food, plays piano on other people's pianos and is a nudist at the comfort of his own home.
Want to know more about my time in Cambodia?
Read this post: an update on my life in Phnom Penh so far (September 2012) or read the latest longer update (January 2016).
Vanity Fair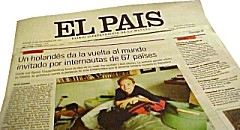 "Web personality of the year 2001: this year's web eccentric is not some unfortunate and unwitting nutter, but a personable 24-year-old Dutch media student"
– The Sunday Times, United Kingdom
"He has become a mascot for living the impossible dream, laughing in the face of caution and conformity, embodying the spirit of reckless adventure that most people year for… when the geyser's fixed and the kids are older and the mortgage is paid"
– The Dispatch, South Africa
"Ramon Stoppelenburg has become one of the first true internet celebrities"
– Evening Herald, Ireland
"Bloomin scroungers, all of em! Go get yourself a proper job and be miserable and parochial like the rest of us!"
– The Register.co.uk, UK
"These are classic travel stories from a modern time"
– globetrotter and travel writer Mike Pugh, Worldhum.com
"It's the flying Dutchman!"
– The Citizen, South Africa
"One guy from Chicago said he could stay as long as his wife didn't object. And if she did, hell, he'd pay for a hotel."
– Wired.com, USA
"Have website, will travel"
– Daily Mirror, UK
"The whole world knows our Ramon Stoppelenburg"
– Het Parool, Amsterdam
"Critics would call him a freeloader but fans call him a entrepreneur"
– The Courier Mail, Australia