Because that was technically what it was. After living in Cambodia for over 7 years now, I had never left the country for the Christmas holidays.
I had escaped to beaches, or just hide out, while pretty much everybody else leaves the country to "go back home" for a few weeks. And I would be jealous. And all the social media channels would show photos of these friends with families and friend back home, mostly involving lots of food and, of course, snow.
It was in September last year that I got an invite to come to France this winter.
The invite had come from the French mademoiselle Mathilde, who I had met on Otres Beach in Sihanoukville (Cambodia) last summer. Add a bit of financial luck on my side and I had simply booked the tickets. I told my family I would spend Christmas and New Year's Eve with them in The Netherlands and then spend another 10 days in France.
After training hard for the Angkor Wat International Half Marathon (Dec 3) and the Chiang Mai Throwdown in Thailand (Dec 9-10) and working (perhaps a bit too) hard on a short literary story.
And what a beautiful escape that was.
And as I want to add: COLD. I had forgotten how cold could be.
I went shopping in Rotterdam with my dad and after parking the car we just had a 1km walk and my toes had become numb. I had him figure out which speaker system he had to buy for his personal computer as I was still crawling up the stairs of the MediaMarkt in agony and with the anxious desperation of getting a sense of feeling back in my feet.

The escape from Cambodia to Europe for the Christmas holidays was a necessary one, too.
Once in a while you have to leave home (Phnom Penh for me) to empty the head, defragment certain damaged brain cells, get loose, let things go and experience something else before returning back and gain a way fresher start.
And loose I got and went in France!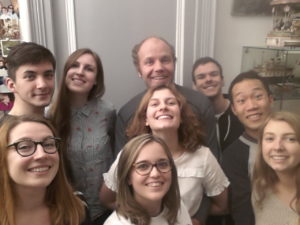 On New Year's day I arrived by train from Rotterdam in the small city of Valenciennes, in the northern departments of France, where I was welcomed by the lovely Mathilde in the warm and historic castle of her mum's. And Mathilde had all her lovely friends still-left-over from the previous day New Year's Eve party. A house full of fun and welcoming people, added with plates of cheese and Belgian Kasteel Rouge beer (what a joy) followed.
In Valanciennes we spent the days walking around (strangely zhe French love walking and I seriously wondered why they don't have bicycles to get around faster – or even tuktuks!?) and even climbing up a nearby terril, a man-made stone mountain from the region's former glory coal mining days. And did I add already that it was cold? My Cambodian body was slowly getting used to below 10 degrees Celsius temperatures.
Then followed a week in Paris, where I lived with Mathilde in her small student studio near the Université Paris Nanterre, just west of the city of lights (and cheese). Thanks to a mocked-up student pass with my pass photo on it for the regional train, Paris was within 10 minutes of public transport distance at all time.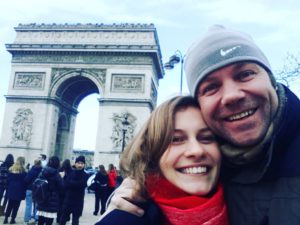 Start the accordion music by Yann Tiersen now – and see us wandering the streets of Montmartre and up the Sacre Coeur, see me go selfie crazy at the Arc de Triomphe, The Louvre museum, the Notre Dame and of course the Eiffel Tower (which gets lit up like crazy for 5 minutes every hour after sunset!), walk down the Avenue des Champs-Elysées, crossing the Seine and get lost in the most existing book store on earth: Shakespeare & Company.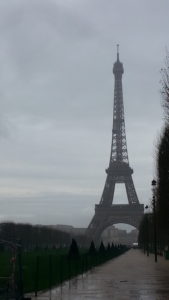 We ate French raclette (think lots of melted cheese!), stick bread, cheeses, Italian pasta and pizza, Mexican burritos, at Burger King or at Amélie's Les Deux Moulins and croissants. Lots of croissants – however I learned it's a crime in France to have croissants at anytime after breakfast! We had the best hot chocolate ever (in my life!) at Angelina's, a super fancy lunch room where we simply jumped the 30-minutes queue outside.
If you think I returned to Cambodia quite fattened up, these were the reasons. I also thought I needed some fat to warm up a bit more.
Trying out one CrossFit class at the Reebok CrossFit Louvre was a great excessive workout that included a 4x 400m run through the streets of Paris. Yes, cold, but I can't complain about that, I was trying hard to get sweaty!
In the evening we went to the movies and I utterly enjoyed Le Brio (with English subtitles at the French cinema night for expatriates in town!) and we went to see what the fuss was all about with the upcoming-awards-winner All The Money in the World.
My digital step counter on my watch went crazy these days and even recorded an all-time record over 24,000 steps made on the last day in Paris. As a late birthday gift to me the lovely Mathilde treated me on a day at the Disneyland Park and the Walt Disney Studios of Paris!
What an utter joy that was. Had I already mentioned anything about the cold? So with extra layers of clothing we took the train and fought the weather at these amazing theme parks.
It was fun, thrilling and pretty exciting (my latest visit to a Disney park dates back to 1980 if I remember well) and I thoroughly enjoyed The Twilight Zone's Hotel Tower of Terror and the various indoor and massive roller coasters, but melted with the attractions of Ratatouille and Pirates of the Caribbean.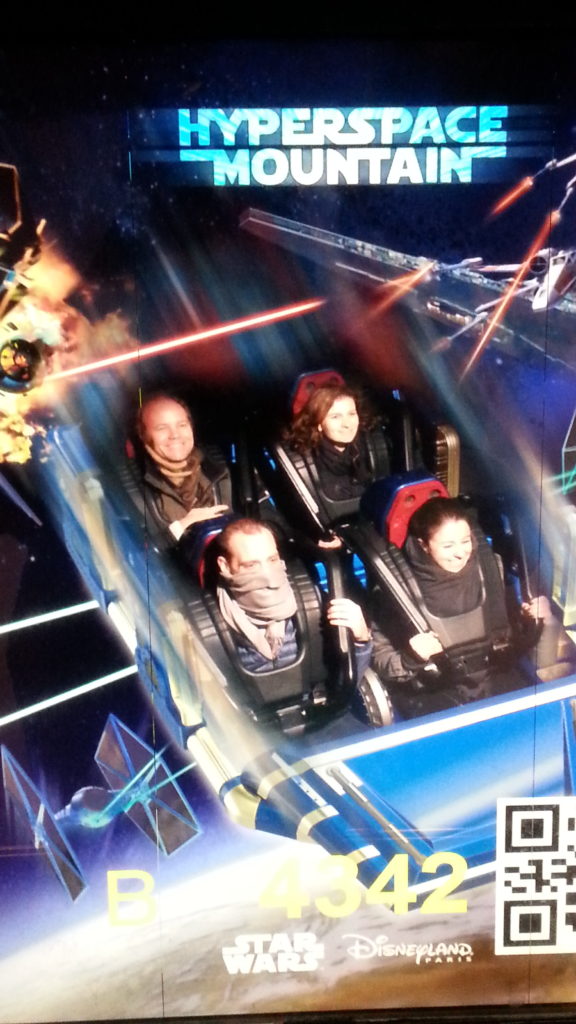 As in every Disney park there was a big fluffy parade through Main Street – but the light show at the end of the day, every day at 7pm, was where Disney gave all of itself. The stunning Chateau de la Belle au Bois Domant (Sleeping Beauty's Castle) became fully illuminated with a spectacular 20-minutes light show that blew me (and a few thousand other spectators) away, including the fire works show that came with it.
This video is just an impression of that…
Talk about a closing act! Now this all became a birthday present not to forget very easy!
The only downside to the theme park business is that I don't see much value in waiting in 45 minutes queues for a less than 4 minutes attraction, but –hey– I must be getting old. It also had to do something with the cold – which I might have mentioned before. It was cold outside!
And then it was January 10 and it was time to head back home again.
My escape from Cambodia worked pretty well for me.
I am thankful for the volunteers that stayed behind at The Flicks in Phnom Penh for keeping the business running in my absence (and not burning the place down) and feed the five cats that were dearly missed.
But I am most thankful for Mathilde for inviting me over and taking me in after meeting up only shortly in Cambodia!
Thanks for surviving me that long so far and perhaps our paths might cross again in the future! <3
Now let's get back to the ordinary hassle in the city, back to eating healthy food (I need to get rid of that extra built-up layer of fat now) and a sportive regime in life.
I can say that 2018 started pretty good and I want to keep it that way. Just keep the cold, it's all yours.