Three super comfortable and popular movie theaters in Phnom Penh, Cambodia, are now for sale!
Yes, I'm looking for a new owner for this fun and profitable (and run by volunteers) enterprise in Southeast Asia.
It was in April 2011 when I took over the movie theater "The Flicks" from the New Zealand couple Martin and Janet. It was a funny place, with a movie room with a large screen and there was a big bucket of ice from which you could fish an ice cold beer can. But when Martin got a serious job at an embassy, ​​their funky movie theater became too much of a requirement and they could no longer enjoy it much as before.
I took over The Flicks from them and began major renovations. The movie theater was restored to 32 seats with cushions (!) and rattan benches, plus a serious lobby with a long bar and cozy red sofas.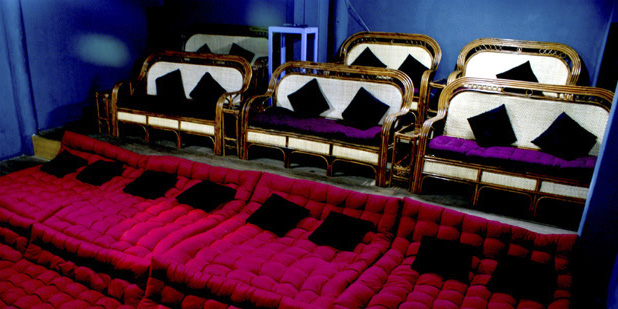 And air conditioning everywhere! And Coca Cola brought a huge refrigerator for free. Kingdom Beer delivered the beer and planted a light box on the street side. And that bright white illuminated balcony was enlarged with a terrace and with darker colors and plenty of bamboo too make it cozier. Roll out the red carpet over the entire property and it was ready for the general public.
Add with a website, a Facebook page and with all the renovation done, it became really busy. I ran the bar with a Cambodian or a volunteer, sold tickets and made popcorn, every single day. Visitors were not only coming for one movie, but sometimes for the whole day (with the cover charge only $ 3.50 per day, that's is not a bad choice of course), and they also ordered more drinks and ordered food from the local delivery partners.
Sometimes there were thirty people coming out from the movie room after a session, only to be confronted with the next thirty people who had come for the next movie. I regularly heard people say, "Since when does everybody know The Flicks?!"
That was when I noticed the need for expansion. Not only because it was busy but also to protect the whole movie theater idea. I just didn't want a smart guy to just rent a villa nearby, build three movie rooms in it and destroy The Flicks. For example.
So I worked on The Flicks 2 (20 seats), which opened in 2012 in the busy center of the city, near the riverside and surrounded by hotels, restaurants and cafes.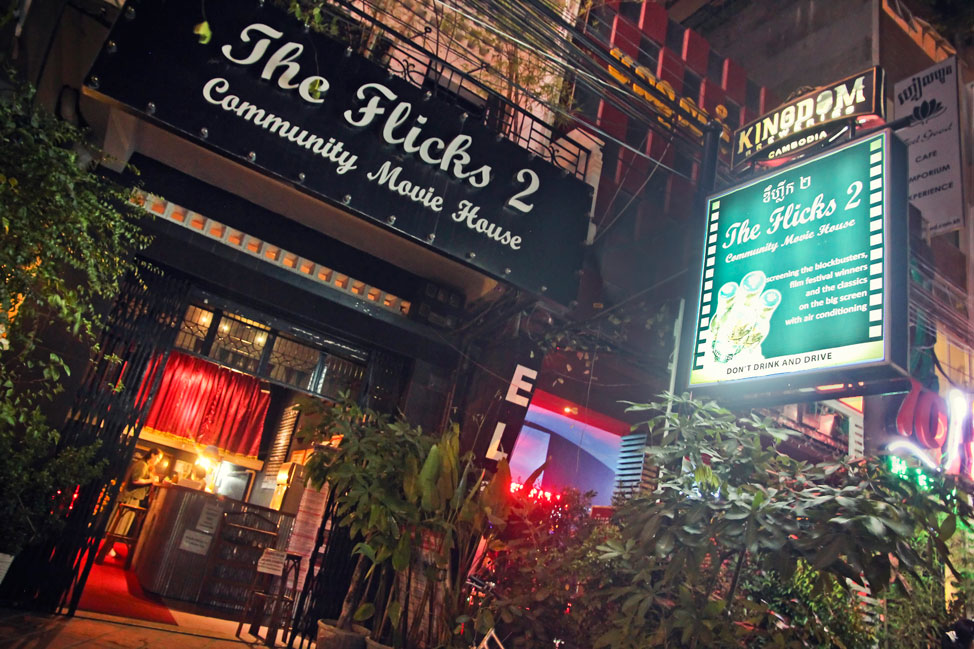 In 2014 I received the story that a popular guesthouse wanted do something else with their pool table room, sized 4×7 meters and pretty high too. That same day I was there to draw out the design for a movie room, we invested and opened in August that year: The Flicks 3 (30 seats).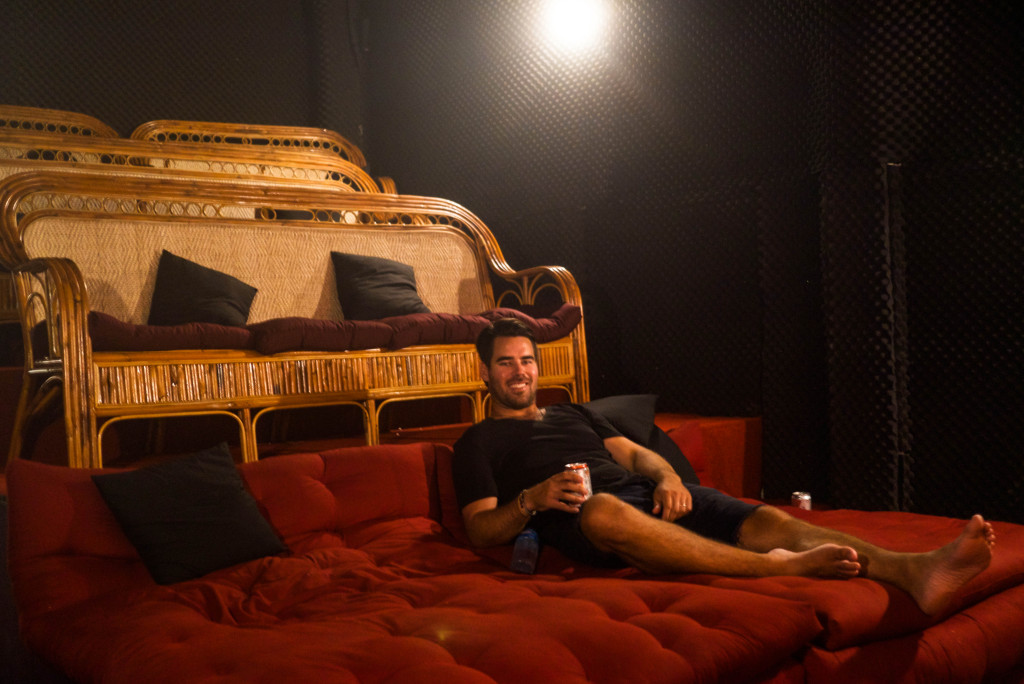 And that was enough. The Flicks 1 wasn't completely full every day (hold on, it still packs up for the latest Oscar nominations and film festival winners and when I start screening the weekly episodes of Game of Thrones again the crowds go crazy!), and the audience is nicely spread over three locations.
(Oh, and in the dry season, from December to April each year, there is also a bi-monthly The Flicks Open Air Cinema organized on the rooftop of a popular bar in town!)
And these three locations were again perfect for my own Phnom Penh International Film Festival (PPIFF), a grand 10-day event where filmmakers from all over the world submit their festival films to.
The apartment below The Flicks 1, the original cinema, I have recently renovated with a brand new modern kitchen and has, next to three bedrooms (for volunteers) and a shared bathroom, also a small suite for management. Currently, the entire property is also a refuge for the seven cats that I started to take care for…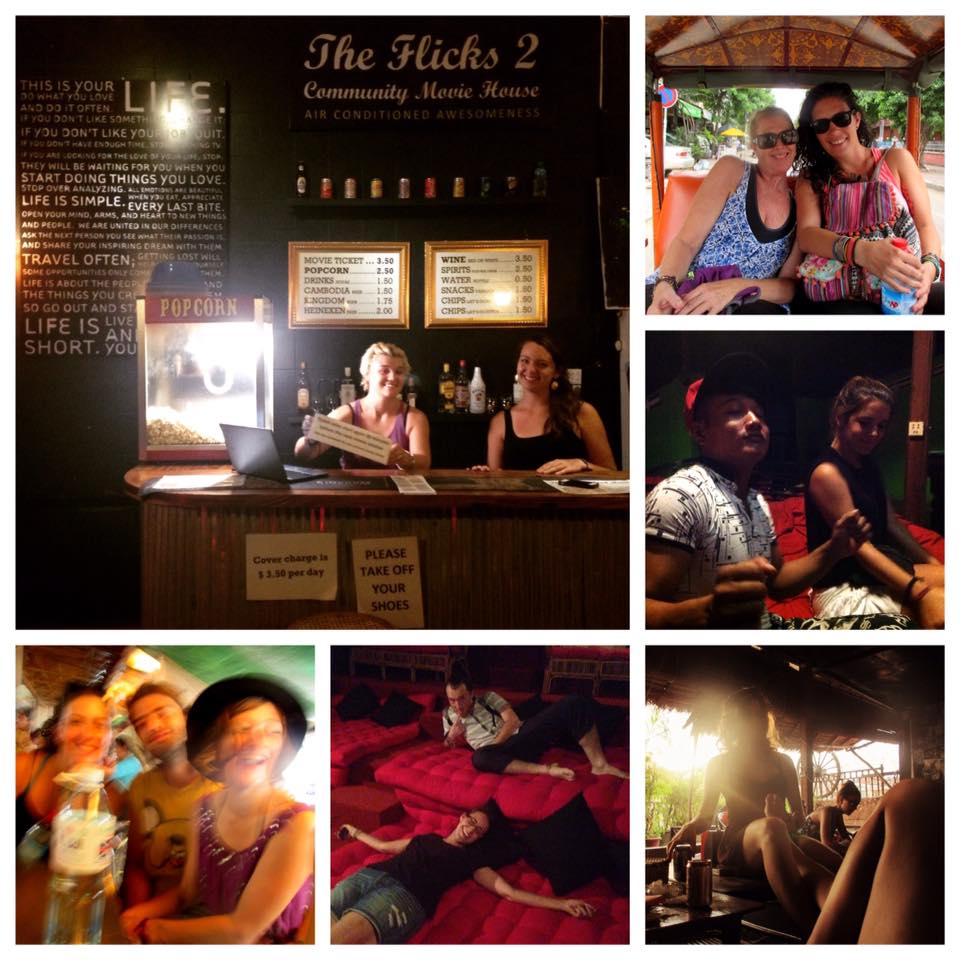 Thanks to volunteers who apply in large numbers through www.workaway.info to help for at least three weeks with running three little movie theaters in Cambodia, I don't have to be behind the bar for the ticket sales and popcorn production and I have made myself responsible for their training (through a convenient handbook), stocks, the movie selection and programming and marketing for it all.
And suddenly I had time again for a social life in the evenings. I became more sportive and enjoy cooking and eating more, with great friends.
The new owner will get this all with all the technical facilities, the volunteer program and I throw in the PPIFF! The work may take anybody no more than 10 hours a week and then you run three movie theaters in Phnom Penh, while maintaining you own social life in the evenings. In Phnom Penh, Cambodia!

After five years, it's time for some fresh blood for The Flicks and for me it's time for me to take a new step in a different direction. I am looking at other options in the region, but don't worry: I'll stay in Asia.
So, fine dreamer, wanna buy some movie houses?